I have found a few more recipe "keepers" to share. There are so many that I am splitting it into two parts (Part II will be on the blog next Friday). Enjoy, and let me know how it turned out if you give any of these a try! To see some of my other favorite recipes,
click here
.
Chicken Breasts in Caper Cream Sauce
From
AllRecipes.com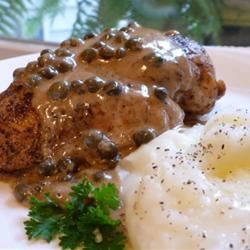 Photo Source:
AllRecipes.com
Ingredients:
| | |
| --- | --- |
| 4 | boneless, skinless chicken breast halves |
| 1 | teaspoon lemon pepper |
| 1 | teaspoon salt |
| 1 | teaspoon dried dill weed |
| 1 | teaspoon garlic powder |
| 3 | tablespoons butter |
| ½ | cup whipping cream |
| 2 | tablespoons capers, drained and rinsed |
Directions:
Season chicken breasts with lemon pepper, salt, dill weed, and garlic powder.
Melt butter in a large skillet over medium heat. Place breasts in skillet, and increase heat to medium-high. Turn chicken frequently, until brown, about 5 minutes. Reduce heat to medium, and cook 5 to 7 minutes, until breasts are cooked through. Remove chicken to a warm serving platter, and cover with foil.
Return skillet to stove, and increase heat to high. Whisk in whipping cream, whisking continuously until reduced to sauce consistency, about 3 minutes. Remove from heat. Stir in capers. Pour sauce over chicken, and serve.
Beer and Bacon Mancakes
From BettyCrocker.com
This recipe has become a New Years Day tradition for us... My advice is don't hold back on the brown sugar when caramelizing the bacon. I end up using much more brown sugar than the recipe calls for.
Photo Source: BettyCrocker.com
Ingredients:
½ lb bacon (8 slices)
⅓ cup packed brown sugar
2 cups Original Bisquick® mix
1 cup of your favorite regular or nonalcoholic beer
2 eggs
Directions:
Heat oven to 350°F. Line cookie sheet with foil. Place wire rack on top of cookie sheet. Arrange bacon in single layer on top of rack. Bake 10 minutes.
Sprinkle bacon with half the brown sugar. Bake 10 minutes longer. Turn bacon over; sprinkle with remaining brown sugar. Bake 10 to 15 minutes longer or until golden brown. Remove from rack. Cool completely, about 15 minutes. Crumble bacon into small pieces; set aside.
Heat griddle or skillet over medium-high heat or electric griddle to 375°F; grease with vegetable oil or shortening.
In medium bowl, beat Bisquick mix, beer and eggs with whisk until blended. If batter is too thick, add additional beer until desired consistency. Stir in bacon. Pour by 1/2 cupfuls onto hot griddle. Cook until edges are dry. Turn; cook until golden brown.
Best Spanish Rice
From AllRecipes.com
Super easy and a perfect side dish to any Mexican meals.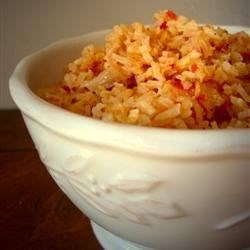 Photo Source: AllRecipes.com
Ingredients:
| | |
| --- | --- |
| 2 | tablespoons oil |
| 2 | tablespoons chopped onion |
| 1½ | cups uncooked white rice |
| 2 | cups chicken broth |
| 1 | cup chunky salsa |
Directions:
Heat oil in a large, heavy skillet over medium heat. Stir in onion, and cook until tender, about 5 minutes.
Mix rice into skillet, stirring often. When rice begins to brown, stir in chicken broth and salsa. Reduce heat, cover and simmer 20 minutes, until liquid has been absorbed.