When preparing for the birth of my littlest one, I remembered very well how busy and tired you are after having a baby. It can be difficult to find time and energy to cook for yourself, your significant other, as well as any visiting family or helpful friends that may stop by. I cooked over 2 weeks worth of dinners ahead of time to freeze, which worked out perfectly. It's right around that point where you start getting your groove down enough with the newborn in order to start cooking more on your own.
Here are several recipes that I found to work really well as make-ahead and freeze meals to reheat and eat post-baby. Tips for making freezer casseroles based on my experience with my last two babies:
1) Line your casserole or baking dish with heavy duty foil before adding the food, and make sure they are big enough pieces that you have foil hanging off the edges. This not only helps you lift the dish out of the pan, but you can also do the first layer of wrapping with the excess foil from the edges.
2) If the item includes a cheese topping, stop baking a few minutes early so that the cheese becomes melted but not browned. You can then let it get browned and bubbly during the reheat process later.
3) After baking, let the entire dish (with baking dish, foil, and food) cool in the following order before removing the foil-wrapped dish from the pan:
a. Cool on the counter at room temp for a few minutes
b. Cool in the refrigerator until most of the heat is gone
c. Cool in the freezer until set and firm (but not frozen). This allows the food to retain the shape of the baking dish when pulled out.
4) Remove foil/food from baking dish, and wrap excess foil edges around the food.
5) Take another long piece of heavy duty foil and wrap the food a few times around so that no food it exposed.
6) I found that if I was making a casserole that required a full 13x9 baking dish, that it was an ideal portion size if I froze it in halves. I would actually have two pieces of foil in the pan separated down the center of the baking dish, like this:
7) After wrapping tightly in foil, I would then place the wrapped food in a large Ziploc freezer bag and try and suck out as much of the air as possible before sealing. This gave an extra bit of protection against freezer burn.
8) Write the name of the dish as well as the degree temperature of the oven it baked in on the outside of the Ziploc bag.
9) When it is time to eat them, defrost by moving them to the fridge. When defrosted completely, reheat in an oven at the same temperature it was originally baked just until heated through and edges/top crisped nicely.
Here are some recipes that worked well for me (and also tasted pretty yummy!). Enjoy!
Chicken Enchiladas with Creamy Green Sauce
Photo Source:
MarthaStewart.com
Get the recipe from
MarthaStewart.com
.
Curry
Vermont brand curry mix (can be found in the international section of grocery stores) has a recipe on its box that is really easy to follow. It also makes a huge batch; about two meals worth. Make as directed with the recipe on the box, split in half, and freeze directly into large freezer bags with as much of the air removed as possible before sealing.
Shepherd's Pie
Find whatever recipe of Shepherd's pie that you like. It bakes and freezes well for a hearty meal. Like recommended above for cheese-topped dishes, bake a few minutes less than directed so that the mashed potatoes are not browned on top. This way you can let brown during the reheating process.
Chicken Rice Divan Bake
Get the recipe from
Food.com
.
Meatballs and Mafalda
Photo Source:
BHG.com
Get the recipe from
Better Homes and Gardens
.
Mediterranean Tuna Noodle Casserole
Photo Source:
MarthaStewart.com
Get the recipe from
MarthaStewart.com
.
Mexican Mac and Cheese
Photo Source:
BHG.com
Get the recipe from
Better Homes and Gardens
.
Pesto Chicken Penne Casserole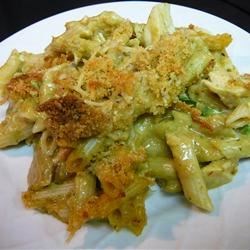 Photo Source:
AllRecipes.com
Get the recipe from
AllRecipes.com
.
More resources for new babies: